Haerbin Boarding producing Machines Factory "Luniwei"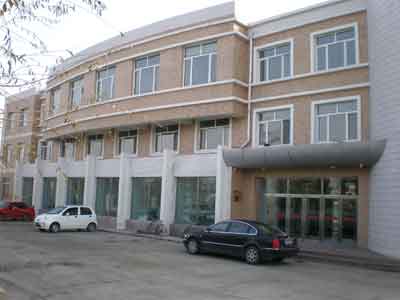 Boarding producing factory "Luniwei" is a part of industrial group "HONG KONG MEGA POWER GROUP Ltd."
On September 28-29 united Board of Directors of machine-building companies "Luniwei", "Sayde" and "Aсpen" met in joint meeting and resolved to amalgamate their factories into new united "Luniwei-Saide-Aspen" open joint-stock company with authorized capital of 550000000 RMB.
The head office of the new company will be located in Harbin.
Luniwei Stock Company is the largest enterprise in China, manufacturing environmental friendly equipment. The factory was founded in 1996, its working area is 15 000 m2, Personnel; engineers and developers - 67 persons, workers -620 persons. Annual turnover - 12 0000000 RMB. The factory is located in the industrial area not far from Harbin. There are branches and assemble shops in different cities in China. The testing demonstration field is in Beijing.
| | |
| --- | --- |
| In the shop where WPB and MFB presses are mounted shop | Double side lamination press on the staging table |
| Single side lamination press in assemblying process | Mounting of lamination presses |
| Production of bunkers | In the shop manufacturing WPB and MFB forming machines |
| Roll conveyors in the assembly shop | Lifting table test |
| Roll conveyors and tables in the shop of mechanical aids(assembly) | Lifting table test |
| Lifting tables in mounting | Press hydraulic reinforcement stations |
| Mounting of hydraulics< | Mounting of hydraulics |
| Filling machines production workshop | Mounting of juice production equipment |
| Operation of export sale department | Work with technical documents |
The factory makes 10 types of equipment , namely
Used tyre recycling. The equipment is made by order. Delivery to Suifenhe.
Rubber coverings machinery, using rubber made from used tyres. The rubber coverings are to be used for streets and roofs.
"Novotrack" machinery. It employs used rubber. Roll type sport tracks for stadiums. Length -up to 35 meters. Microwave vulcanization
Various sealing materials. Length - up to 100 meters, section up to 6 cm2
Machinery for processing used plastics of all types
Machinery for making bags and packages from used plastic
Machinery for making egg trays, vegetables boxes, fruit packages, bottle packages out of old newspapers and books
Machinery allowing to use branches and sawdust as a charcoal, used for non-ferrous metallurgy, chemistry and food production
Decorative particle board making machines. The particle boards are made of saw-dust. Size - 2.4X1220X020mm
Machinery for collection and regeneration of used oils.
| | |
| --- | --- |
| | |
All the machines are made on the basis of the best and newest technologies worked out by Chinese and foreign scientists. Optimal price-quality ratio, 3 years guarantee. The factory will consider the possibilities of leasing and partial payment by final products. About 50% of the machines are sold outside China. All the machines have international quality certificates.
We can make a production line of any complete set.
Our specialist will come to any country of the world to mount the equipment and train your personnel
Welcome to our factory! Contact us and have the best in the world waste-processing equipment.
Our contacts